The
Method

The method explained in more detail
The Del Ferro Method
The Del Ferro Method was developed in 1978 by the American opera singer Len Del Ferro. The method has been a unique scientifically proven method for more than 40 years for anyone who suffers from stuttering, hyperventilation and other respiratory related problems.
Revolutionary Discovery
The Del Ferro Institute made a revolutionary discovery in the late 1970s. Stuttering was discovered to have a physical cause. The diaphragm muscle, the muscle that is 90% responsible for breathing, was found to make uncontrolled movements when someone stutters.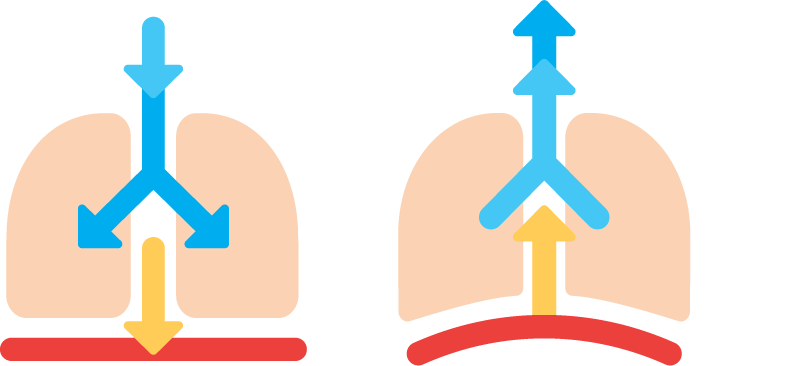 This discovery has been scientifically investigated nationally and internationally. Multiple specialists, pulmonologists, and neurologists confirmed the discovery, which subsequently marked a revolutionary breakthrough in stuttering treatment.
Later, investigations were made whether this specific breathing technique would have an effect on chronic and acute hyperventilation, asthma, insomnia and fitness improvement. The results were astonishing. The Del Ferro Method was found to have an extremely positive effect on the fitness and endurance of top athletes. It was shown that hyperventilation complaints immediately reduced when using this method and medication could be reduced.
Unique method
The method can be described as unique, because a relatively simple solution is taught for both the mental cause (the thought of fear) and the physical event (hyperventilating). With the right application, it immediately leads to permanent results.
In addition to people with hyperventilation, stuttering problems, burnout complaints, sleep disorders and other breathing-related problems, many top athletes also benefit from the Del Ferro Method. For example, as a mental coach and concentration trainer we were affiliated with football club AJAX Amsterdam. We trained tennis players such as Henry Leconte, Stefan Edberg, Annick Melchers and Arianne Hartono. But also top athletes such as Gerrie Knetemann, Henk Lubberding, the cycling team of Peter Post, Ruud Krol, Simon Tahamata, Ties Kruize and Jan Raas benefitted from the Del Ferro Method.
Through targeted exercises aimed at training the diaphragm and ribs, you can control your breathing in order to effortlessly use 60-70% of your lung capacity. This efficient way of breathing will improve (sport) performances. It allows you to breathe easier and deeper, so you are less tired and recover faster after an effort. It improves athletic performance and reduces shortness of breath. The technique also contributes to relaxation, which sharpens the focus.
Content of the training
The trainings are tutored by officially trained Del Ferro teachers. Besides overcoming the physical complaints and strengthening a positive self-image, it is above all a very practical training in which the technique can be applied directly in all possible situations. In this way, complaints change into self-aware and goal-oriented behavior, which increases self-confidence and lead to overcoming complaints.
After the first lesson you will experience that you have control over your body and that the complaints are no longer in charge of you and your behavior!
The method helps against any form of hyperventilation, both chronic hyperventilation and acute hyperventilation
Because you experience immediate results, your self-confidence will get a boost and insecurities will diminish until you have overcome your fears.
[expand]
More than 40 years of experience
Founder of the diaphragm breathing training
Covered by health insurance companies
Scientifically proven
International fame
Unique method
[/expand]
Scientific articles
It has been scientifically proven that this method offers the solution for any form of hyperventilation. The method also has a positive effect on the fitness and recovery during and after exercising sports. The technique lowers the lactic acid level in the blood. This makes you feel less tired and you recover faster after exertion. The method is also the solution for burnout complaints, insomnia and other breathing problems. The Del Ferro method has helped thousands of people worldwide.
read more